Featured
For Sale
14 acres of TN perfection just minutes from Nashville! Similar lots have sold for $449,000. Buy this at a discounted price of $294,000!
Perfect 14ac Build Site in Castalian Springs, TN
Description
WHY BUY?
1. Perfect 14ac Build Site in Castalian Springs, TN
2. The property is less than 30 minutes from Lebanon, an 1 hour from Nashville!
3: We are currently offering this incredibly discounted lot at a cash price of $294,000.
Similar sized lots in the area have sold for $449,000.
COMMUNITY DETAILS:
Castalian Springs is a countryside community offering residents striking scenery that will take your breath away! If you truly want to obtain a calm country life, this is your area! Come build a beautiful farmhouse with lots of character and charm or a customized craftsman-styled home with tons of amenities! This deal wont last long, so call us now to learn more or make an offer!
USAGE DETAILS:
Single Family Home
RV Storage
PROPERTY DETAILS:
Lot Type – Land
Sale Price – $294,000
State – Tennessee
County – Sumner
Assessor's Parcel Number – 132-018.00
Approximate Annual Property Taxes – $586.00
Property Usage – Single Family Home & RV Storage
Property Address – 530 Macedonia Rd, Castalian Springs, TN 37031
Size – 14 Acre(s)
Road Access – Yes, Paved
Electricity – At the Street
Water – Public / County connections
Septic – Private
Market Value – You are buying into EQUITY as similar land has sold for $449,900
ACCESS DETAILS:
Macedonia Rd is a paved road.
Lot Address: 530 Macedonia Rd, Castalian Springs, TN 37031
457 Macedonia Rd is the address to the neighbors house, which is a church, south of the lot.
POPULAR ATTRACTIONS:
Cragfont State Historic Site, 9 minutes away – This site is highly recommended for anyone interested in history,
architecture, construction, or lovely gardens.
Sumner County Museum, 19 minutes away – The museum provides visitors with lots of local history exhibits and
artifacts placed within an authentic 9th-century building.
Gallatin Miracle Park,19 minutes away – This park offers residents a place to partake in a variety of recreational
activities like soccer, softball, disc-golf and includes a fenced dog run area.
Charlie Daniels Park, 41 minutes away – The Park is a great place to bring kids to play on the playground, tennis,
basketball, or sand volleyball courts!
DISCLAIMER:
Buyer must verify & work with County to know what can & can't be done with the land, obtain proper permits if needed & confirm the availability of any utilities needed/serviced on the lots. Seller makes no warranties or representations about the land, its condition, or what can be built on the parcel.
Property Information
Nearest Cities
Nashville, TN
Address
530 Macedonia Rd, Castalian Springs, TN 37031
Legal Description
Dcu Added,Opu To Epu 04/Op U Nv/Utl Bld &Imp Shed Rem
Features
Coordinates
36.3563412000000000 -86.3183614300000000
Property Pictures
Cities Nearby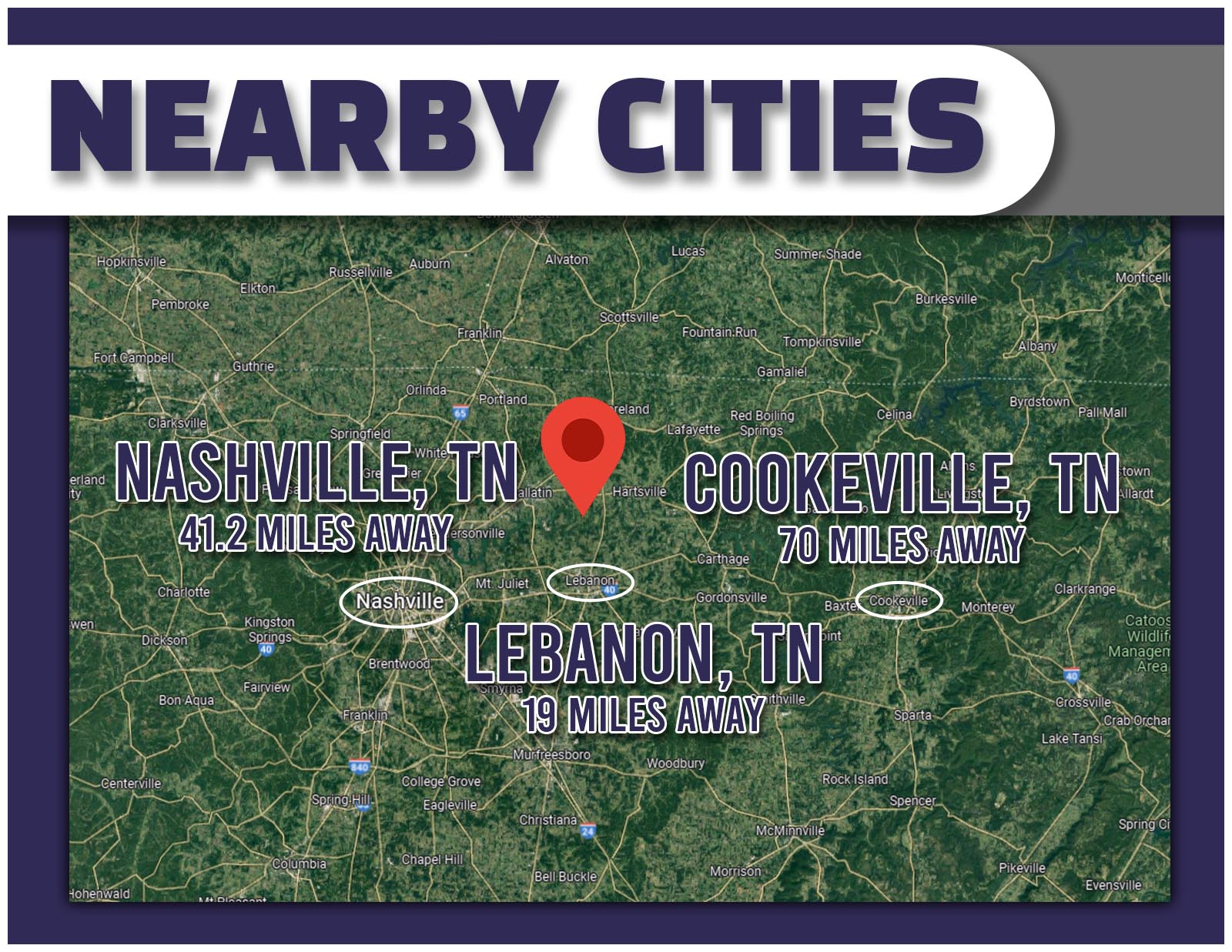 Utilization Options
Activities